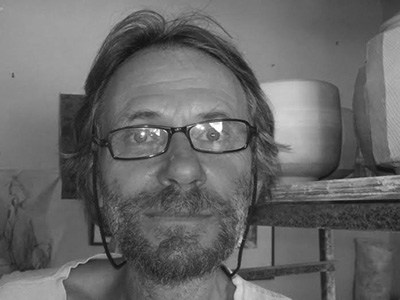 "I have had a fascination and passion for pottery from an early age after seeing someone making pots next to my mother's studio, when I was about 13 years old. Soon after that I started making pots at home after building a wheel and kiln.
After two years at the Cape Michaelis Art School, I started making pots full time after encouragement from one of SA's greatest potters, Hyme Rabinowitz, who along with the founders of modern studio pottery, Bernard Leach and Michael Cardew, was, and still is, my inspiration.
In 1979 I went to the U.K. where I worked and studied pottery for 18 months and gained valuable experience. On my return to Cape Town in 1981, I set up my pottery in Diep River and built a wood-fired kiln initially and then a gas kiln and started making functional, brush decorated, reduction fired pots.
After twenty years of selling at the Waterfront, my wife Kim and I decided to go back to basics. So we sold up and moved to a little village in the Klein Karoo, Van Wyksdorp, where we have settled into a quiet life, making pots, painting, growing veggies, keeping chickens and really enjoying ourselves.
I hope that my pots reflect my love of simple form, well made, and decorated with the inspiration I find in the flora and patterns that surround me."