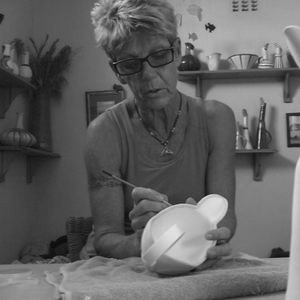 "I am an Englishwoman living in Durban where I have been for the past 20 odd years, other than a short period when I lived in Cramond, near Pietermartizburg.  Before coming to South Africa I owned a photography studio and picture framing shop in Blantyre, Malawi.
My artistic background and degree is in photography, although I experienced ceramics whilst studying Art at Bedford Girl's School in the UK as part of my 'A' Levels. Although I specialised in Design at that time I have always been interested in ceramics and re-discovered my enjoyment of working with clay whilst living in Cramond, studying with Garth Hoets at his Hilton Studio.
After my return to Durban I continued my clay journey with Corri Hook and still attend classes in her delightful studio, although I now create most of my work in a pleasant, plant-filled courtyard which provides much of the inspiration for my work. My other major inspiration is the famous potter Lucie Rie, whose work I admire above all others.
What started out as a way of balancing my extremely disciplined life as an athlete and sports coach with a little creativity has turned into a major passion and a serious form of expression. I continue in my 'day job' and create my ceramics in my spare time. Most of my work is slab built in earthenware and decorated with underglazes, oxides and slips, but I have recently acquired a wheel and am enjoying the challenge of learning what is possible using this tool.
In 2019 I won the Mr Price Home Award at the KZN Regional Exhibition for my slab-built jagged bowls, dishes and vessels as well as a Highly Commended award at the same event."