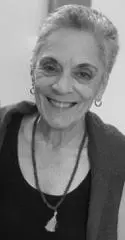 Nitsa was born in Limassol, Cyprus, and emigrated to South Africa with her parents as a young child. She is an artist and teacher and has participated in many group exhibitions.
Geological formations and mountains weathered by rain, wind and fire are testament to time and transformation, of life and death, of change and impermanence.
Textures, colours and simplicity of form evoke an essence of landscape without specific reference or interpretation of a particular place. Rather they are layers of memory, of experience of spaces Nitsa has visited and echo a deep nostalgia of place, be it in South Africa or the Mediterranean.
Nitsa works intuitively and allows the work to evolve through manipulation of the materiality of clay and the effects of oxides, glazes and textures. Her interest in tea bowls stems from her studies of Chado and the underlying precepts of the Tea Ceremony.