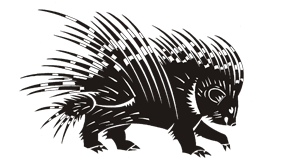 The Porcupine Ceramic Studio was started by Patricia White, together with three staff members, early in 1994 in the courtyard of her home in Plettenberg Bay. Her husband put the world of computers behind him, joined Patricia, and together they moved the growing business to a farm, nestled at the base of the Outeniqua Mountains.
The Porcupine studio grew organically, drawing staff from the surrounding areas, who were previously disadvantaged and unskilled.
The business grew so dramatically, they had to move to a new and spacious home at the Craggs, and Pat now employs over 24 people.
Porcupine produces a diverse range of ceramic artworks. Each piece is handcrafted, meticulously decorated and raku-fired, giving it individuality and character.
Showing the single result