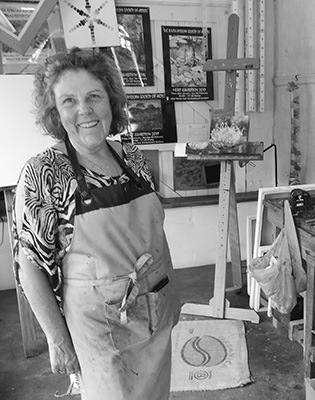 Mandy grew up on a farm near Grahamstown in the Eastern Cape, where she was always inspired by the beauty of the natural world surrounding her. She paints these subjects with love and emotion.
After studying graphic design in the early 80's, Mandy pursued a career in advertising. Several years later she started freelancing, specialising in book design. She created an array of artistic books for several publishing houses in many diverse fields spanning wildlife, travel, natural history and cookery to gardening, history, arts and crafts.
In May 2007, Mandy picked up a paintbrush for the first time. She joined the South African Society of Artists in 2008 and has exhibited regularly at their annual exhibitions at Kirstenbosch. Since 2010, she has qualified numerous times for SASA's Merit exhibition, winning a commended award in 2013. She also exhibits annually at the Grahamstown National Arts Festival.
The Cape Gallery also holds regular exhibitions in which Mandy has participated.
Her hiking boots, together with a good camera, have clocked up many kilometres on the Cape Peninsula and other parts of the Western and Eastern Cape. This is where she gathers her inspiration.
Mandy sells her work at galleries in and around Cape Town and also privately from her studio and new gallery at her home in Pinelands which she shares with her husband Peter.