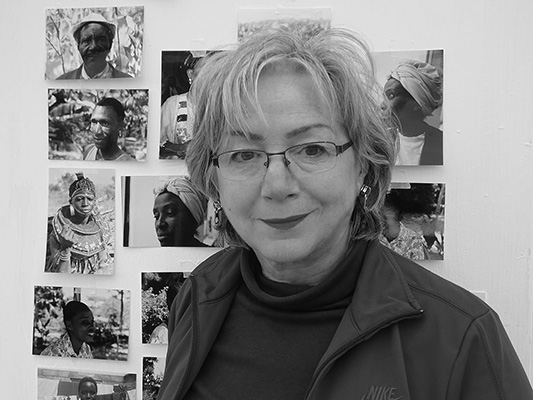 The indomitable Nadia Kisseleva goes from strength to strength. When she completed her Masters in Fine Art at the University of Birmingham, she came top of her year, winning the prestigious Gertrude Aston Bowater Prize.
Born in Voronesh, Russia, Nadia has trained at the Ryazan College of Art; the Academy of Art in Leningrad; the University of Central England and the Wimbledon School of Art, and is now an Associate Member of the Royal Birmingham Society of Artists. Fluctuating between landscapes, portraiture, abstract and figurative work, Nadia constantly expands her boundaries. Colour and pattern are layered into her mixed media work, often drawing on traditional textile designs. But her paintings also exude calm; a vastness of space and stillness of time which is so typical of Africa. Women are a recurring theme in Nadia's portfolio, either dignified in their tribal dress or modern Kenyan citizens, portraying their inner strength, resilience, patience and integrity.
At present, Nadia lives between Kenya, Austria and UK and exhibits successfully in all three countries. One of her latest achievements was to have her recent display "Stripped" selected to be part of "Personal Structures 2019" in Venice alongside the Venice Biennale. Nadia is a highly polished, professional and accomplished artist who works hard and constantly pushes herself to produce strong and intelligent work.