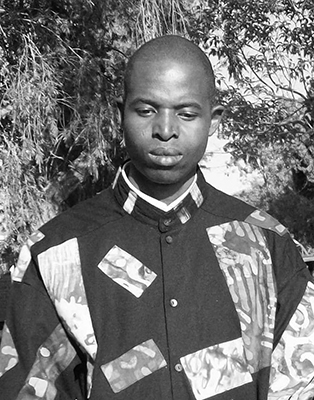 Born in 1975 in Mberengwa, Zimbabwe, Valentine grew up on a tea estate in Chipinge where he was exposed to various farming activities and unique scenery surroundings. These later formed part of his early painting subjects, inspiring Valentine to view life from a different perspective. He was fascinated by the reciprocal relationship between human beings and nature and how each can influence the various conditions in which they find themselves.
His artistic talent was nurtured at Hartzell High School near Mutare, Manicaland from 1989 to 1992. Mutare is in the Eastern Highlands of Zimbabwe. This region is very scenic with mountains, waterfalls and forests. From 1995 to 1998, he enrolled at Chinhoyi University to study Art for both Industry and the Education Sector. Valentine taught Art in Chipinge and Bulawayo until 2005 when he decided to pursue a full-time painting career.
Valentine continued to work very hard to build his name on the International arts scene. He was, however, struck by a crippling rheumatoid arthritis in November 2011 which left him more or less bedridden and confined to a wheelchair, resulting in him not painting for 6 years. But Valentine has a resilient spirit, and despite all these challenges, he made a powerful come back which is he claims is nothing short of a miracle and his faith in God.
"The depiction of the road in most of my paintings is symbolic for all the ups and downs that we face in our daily struggles. My landscape work takes people on a soul searching journey as they try to appreciate and discover the wonders of creation. Landscapes actually speak to us. They can arouse and calm down our emotions."
Over the years his paintings have not only won the hearts of many but won him a few well-deserved accolades and recognition in both the local and international media.
Valentine has had 20 solo exhibitions and partaken in 40 selected group exhibitions in Zimbabwe and internationally.
Part III: A love of flamboyant trees and the art of Valentine Magutsa
Showing the single result