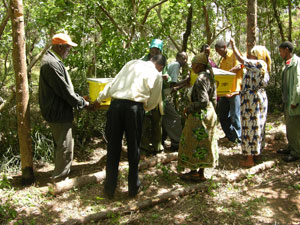 Fillingdon Fine Art is proud to support the charity Farm Africa.
Farm Africa was founded to help poor farmers and herders in Africa to grow more food, keep their livestock healthy, make a basic living and manage their resources in a sustainable way.
Farm Africa has proven that, with the right training and support, poor rural communities can identify and implement appropriate solutions to many of the key problems they face. Families are directly supported to help work themselves out of poverty through improved ways to mange their crops, livestock, forests and access to water.
After 21 years of support, we were delighted to be named their Fundraiser of the Month in November 2015 and to be admitted to their Fundraiser Hall of Fame; http://www.farmafrica.org/featured-fundraiser/fillingdon-fine-art
To date, we have raised more than six thousand pounds for the charity, taken solely in donations from our wonderful customers.  We were told that our donation this year will provide two goats to support two families in Ethiopia, or provide training to five women in high quality coffee production in DR Congo.  So we are delighted!  Thank you for all your support.
If you would like more information on Farm Africa please go to www.farmafrica.org.uk
"Coming from a farming background in Africa, supporting Farm Africa is a natural fit for me. I like the modus operandi of the charity which has a hands-on approach to help communities to help themselves. I have fundraised for Farm Africa through my contemporary African art gallery for 28 years. Many of our artists and crafters live in rural locations in Africa and need support to sustain their way of life and independence. I love to think we can make a little difference, however small."
Thank you Debs for your kind support!