We first met in hospital.  Not an auspicious start but paintings by Cathy Layzell were already adorning the illustrious walls of the private Constantiaberg Medi Clinic – soothing sea-views and expansive landscapes – so she suggested we meet there.  A good introduction in 2011 to the classic work by this French and British taught Cape artist.  But a sterile environment in which to view her work, and I much preferred the warm welcome at her Mum's where we sifted through canvases on the floor.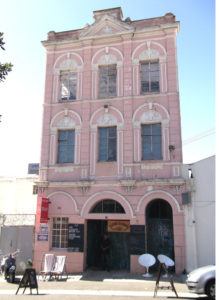 Three years rolled by, during which I visited Cathy again at her home in Tokai before she moved on and embarked on her post-graduate Diploma.  Like many progressive artists who keep evolving and pushing their own boundaries, Cathy elected to take up a Residency, at the newly re-opened eclectic Luvey'n Rose in the colourful Bo-Kaap area of Cape Town.  Living and working on the top floor, she had the space to indulge in her large semi-abstract journey and found her wings to fly. The Equus Gallery at the Cavalli Estate and Casa Labia were quick to sign her up at this point, whilst here in UK, with the help of a friend and an Hungarian driver, we transported her previous, more traditional floral paintings, from storage in Kent to the Chilterns for an inaugural exhibition in 2014.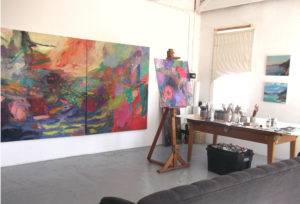 In 2015, it was Cathy's turn to visit us, although she took the unorthodox route and I received a rather bemused call from our framer saying they had a 'lost artist' who they thought belonged to us! In Cathy's words,  "it was great to see your beautiful gallery, although it was somewhat of an adventure touring the neighbourhood and coming across your framer in the middle of farm fields. Goodness only knows how I made it there!"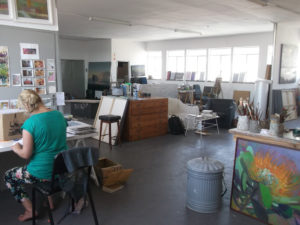 Also that year, Cathy moved into her new shared studio at the top of a building in Woodstock, which bakes in the hot Cape summer sun; smells reassuringly of oil paint and turps and has the most sublime views over the Mother City, encapsulating not only Table Mountain and Lions Head but the whole back and bum of the beast itself.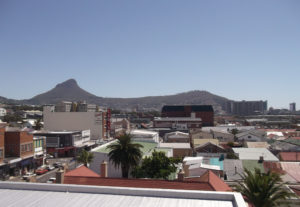 The Cape Town gallery Salon 91 have embraced her work and she had her impressive solo show "Wilderness" there in 2016, featuring colour and abandonment, perhaps inspired by her earlier visit last year to Giverny, particularly as she speaks of "controlled cultivation and unfettered growth ."  It is a range of mini oils, an off-shoot of this exhibition, which we are pleased to be showing by Cathy this year.
Salon 91 also showed Cathy at Turbine last year and at the very recent Cape Town Art Fair in February 2017, whilst her next solo exhibition, "Reserve" opened with them on 1st March.  It was a privilege to see her dark, exotic and seductive work in progress for this collection, when I climbed the five-storey fire escape last month to meet her again – and of course to admire the view.