Fillingdon Fine Art is proud to be supporting Rise Africa UK at the Art 4 Africa art fair in Bedfordshire from 16th – 19th June 2016.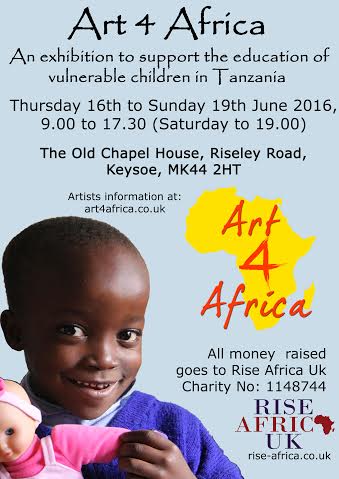 Rise Africa UK is a UK registered charity (Charity Registration Number: 1148744) committed to making a significant difference to the lives of vulnerable and disadvantaged children in the Moshono community of Northern Tanzania, and it has certainly done so. Since its inception, Rise Africa has raised a total of £95,000, with which the charity is supporting the education of 75 children who would have otherwise been denied education. The aim through Rise Africa UK is to ensure that all the children get the maximum benefit from their education, so that they can become self-sufficient and establish a brighter future for themselves – a life they have shaped, in which they can fulfil their aspirations and avoid the vicious cycle of poverty. An education is undoubtedly the most valuable start in life, and provides a real opportunity to make a difference to a child's future.
Quality paintings, sculpture and ceramics by over 35 artists will be on display in a beautiful rural setting, with complimentary teas and coffees available, a cash bar and plenty of parking.  It is a unique opportunity to purchase an unusual and beautiful piece of original art for your home as well as make a meaningful contribution directly to a worthwhile cause in Africa.
Please come and support.  "Be part of something special."