No shy shrinking violet, Durban artist Angelika Anastasis's exuberance is matched by her canvases – bold, bright and bursting with warmth,colour and vitality.  Describing herself as an artists, writer and seeker, do visit her website https://www.angelikaanastasis.com/ to get more of an insight into her story, inspiration and beliefs.
I loved my visit to her spacious and airy home, flooded with natural light and original art. No standing on ceremony or inhibitions here – Angelika welcomed me in and chatted non-stop, hands flaying, in wonderful Greek fashion.  When I asked if I could take her photograph, explaining that I meet so many artists on my trips and don't want to forget any of them, she replied huskily and with a seductive wiggle of her hips "You won't forget me darling!"  And she was right!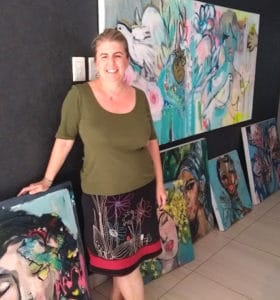 We have two vibrant original oil paintings by Angelika currently in stock and they are part of our 30% off sale now on.  Go to https://fillingdon.com/gallery-category/paintings/angelika-anastasis/ to read more about them and do get in contact if you would like any further details including the prices.