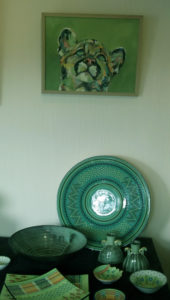 Our Irish flag is flying high for the match at Twickenham this afternoon – Ireland v England; green v white. Obviously in a game of rugby, supporters back only one colour.
But at our large mixed art exhibitions however, all colour preferences are catered for.  So on our forthcoming show opening next Saturday, we feature striking oil paintings by Emily Kirby in the green corner, ably backed up with classic bowls by Chuma Maweni, distinctive candleholders by Hennie Meyer and a vibrant selection of functional ceramics from the Potters Workshop.
Whereas in the white cabinet, we showcase ethereal vases by Sarah Walters, translucent porcelain by Candice Coetser & Dale Lambert and quirky monkey pod dishes by Pamela Schroeder.  So green or white?  In this case the choice is yours.