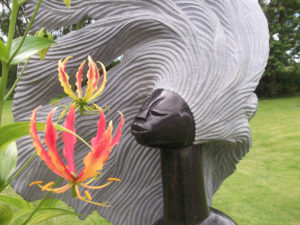 Summer may be nearly over but there is still time to wake up and smell the roses – or the flamelilies as the case may be – and realise that what your garden needs is a piece of African stone sculpture.
Such artworks not only provide a focal point for an open space, but, being of a natural material, they enhance the visual beauty of a garden by blending well with any surrounding foliage.   The vagaries of the British weather play their part too as each sculpture alters depending on the light of the day cast upon it.  Warmed by the sun, cooled by the night air; these original and poignant works of art are so tactile to touch, they invite the passive viewer to become an active participant by tracing the lines as one would braille.
Fillingdon Fine Art welcomes any sculpture enquiries.