Many people have a tree or shrub planted in their memory.  Unusually, Mary Stewart planted her own before she died.  One of a pair of sycamores grown from seed by Mary and her husband Grant, they planted the two trees in our field when we first bought Fillingdon Farm in the winter of 1992, before we had even moved in.   We soon removed the weaker second tree and over the years have watched this one grow into a beautiful strong umbrella shape; lime-green in spring, leafy and shady in summer and often snow-laden in winter.  But it is in the fall that this tree really comes into its own.  Its foliage turns the most spectacular autumnal shades of russet golds, auburn reds and burnt oranges – colours completely reminiscent of Mary's fiery red hair.  Simply known in our family as "Mary's Tree", nature plays out an annual homage of remembrance to her in our garden every year.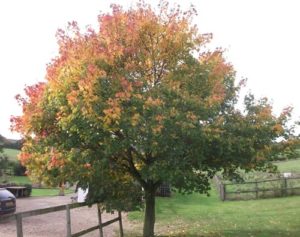 I met Mary when we were nine.  She was my best friend's cousin; shy, arty, quirky and sweet. She joined my senior school in Harare in 6th form and we became the greatest of mates.  After attending two seperate universities in South Africa, we reconnected in London, and Mary was instrumental in assisting me setting up Art of Africa.  She designed the 'lady' on my logo; was one of the first artists whose work I exhibited and often minded the gallery for me when I needed help.  She was smart, funny, feministic and one of the most artistically talented individuals I have ever met.
Their move to Oxfordshire happily coincided with ours to Buckinghamshire, and she and I shared the years of pregnancy and early motherhood together; she would definitely have been a godmother to our children except she did not believe in God!  A few years after they moved to Scotland, Mary was diagnosed with advanced cancer and was dead within weeks at the age of 43.  A young mother, wife, daughter, sister, friend and accomplished artist; hers was a beautiful life extinguished all too soon.  She never fought it and her only regret, she said to me, was that she had so much more still to give.
Art of Africa has transformed into Fillingdon Fine Art, but Mary's logo lives on, as does her tree; a stunning reminder every autumn of her spirit and talent.  RIP my friend; you are always in our thoughts.