Fire, fire, burning bright; In the forests of the night
What immortal hand or eye; Could frame thy fearful symmetry?
With apologies to William Blake, this poem sprang to mind as 5,500 hectares of nature reserve burnt in the Cape fires a fortnight ago, when I was out on my annual sourcing trip.  The evening of Sunday 1st March was marred by our first sighting of a crimson slash, like an angry wound, glowing the whole way down the mountain.  It resembled red-hot, slow lava flow from a volcanic eruption. But it was far from lethargic.  The ultra-strong south-east wind that night whipped up flames to three storeys high as virtually the whole mountain caught fire, and it spread from Hout Bay to Clovelly.
For the next four days, the emergency services fought heroically and tirelessly to save human and wildlife; homes and businesses; flora and fauna.  A moving visual and lyrical tribute by my friend, beautiful singer and song-writer Verity Price can be found on YouTube.  Personally, I found the journey on Monday morning over Boyes Drive like being an extra in a Hollywood action thriller, as helicoptors rose dramatically out of the woods next to my car, swinging precariously their bloated water-bombs filled from the harbour below to douse the searing flames.  Before too long that road was shut as the fire reached and leapt it.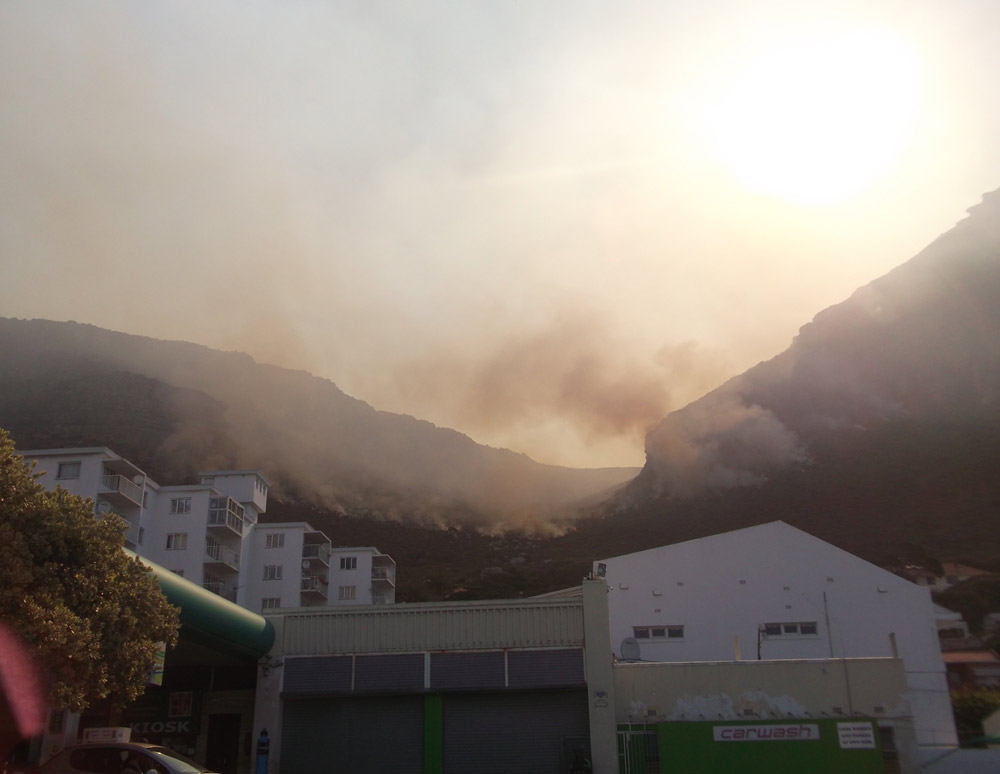 Tuesday saw the temperatures soar to an unprecedented 42 degrees in Cape Town, which naturally aided a rampaging and scorching inferno and made the fire fighters' job almost untenable.  For the rest of us it was merely uncomfortably hot in the inevitable slow traffic necessitated by road closures.  Constant roadworks continued unabated on Main Road bringing the only access road open on the peninsular to a standstill. Drivers like myself turned off our engines and watched in silent prayer as the ring of fire danced along the mountainside above Muizenburg, St. James and Kalk Bay, licking the outer homes with its' heat and tantalising communities with devastation. Friends of mine were up for 40 hours in Clovelly, assisting fire-crews and helping family evacuate ahead of the blaze.  The nearby Lakeside Fire Station was a swarm of worried relatives, exhausted crew and flashing lights bringing in relief supplies.  As so often in the face of disaster, true human spirit rose to the fore, and the public responded to an appeal for lip-ice, throat lozenges, eye-drops and food for the fire fighters with zealous alacrity. Students collecting cash in firemens' helmets at the traffic lights was particularly poignant.  And church and community halls were opened to house and feed evacuees.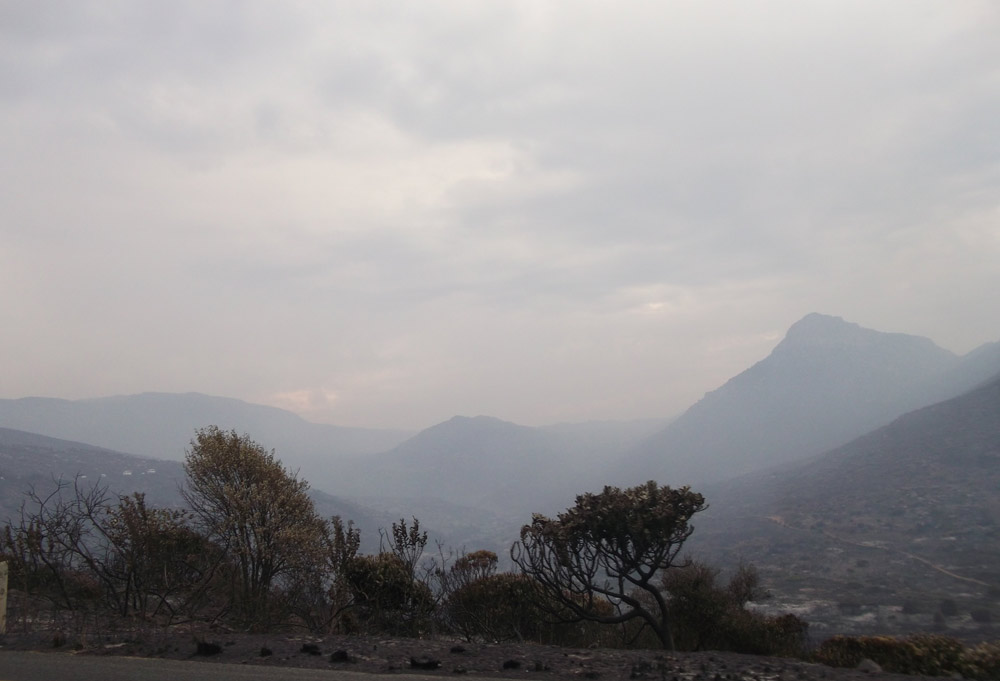 By Wednesday, Ou Kaapseweg was open, but the funereal convoy of cars, wending up the winding mountain road was slow and silent, as every driver surveyed the wrecked scene of devastation.  Full headlights were required due to the lingering pall of acrid smoke.  A ghostly white layer of ash covered the mountain as sand on a beach; every remaining tree, shrub and bush was black and skeletal and the road signs and crash barriers were unreadable; peeled, bubbled and blistered paint; toxic like post-nuclear fall-out.  Silvermine and Noordhoek had been evacuated, Chapmans Peak Drive closed due to fire damage to the nets and support pillars which protect the road, and the horses on all the nearby farms released and ridden on to the beach for safety.  But in Tokai forest the fire still raged on, destroying the ancient arboretum and threatening gracious old wine estates like Groot Constantia and the world-famous Kirstenbosch Gardens.  I questioned my lunacy as I drove tentatively up to the Nek to keep an appointment with a ceramic studio.  The forest got darker and darker and all the traffic seemed to be coming out. With only one exit road open, and it clogged with cars, meeting the fire head-on was not an appealing option.
The incendiary problems were exacerbated by a fresh outbreak at Cape Point Nature Reserve, followed by two smaller fires in the Winelands and Betty's Bay and finally a large one at Jonkerskloof which resulted in the partial evacuation of Stellenbosch University.  A tough week by any standards. No wonder the annual Cape Cycle race got truncated, much to the disappointment of thousands of participants.  But, with every cloud…….and as one of my floral artists optimistically said, she can't wait to see the post-fire re-growth, as fynbos thrives on a good burning.  So next season's proteas and flora in general  should be spectacular – a positive result from a gruelling tragedy.