Ever since my Junior school friend Gina wowed me with their family heirloom of a glass replica of the famous 3,106 carat Cullinan diamond, I have been fascinated by that mine.  So when I heard about local resident Johan du Plessis making sculptures out of horseshoes there, I decided to visit.
After an hour and a half drive north-east of Johannesburg, through savannah grassland and acacia scrub reminiscent of Zimbabwe, I came to the 'gem of South Africa'.  Expecting a dry, dusty one-horse town, I was pleasantly surprised.  Cullinan has re-invented itself as a quirky, arty destination and the single-street centre  was brimming with daytrippers having 'koffee en koeksoesters' in the sunny gardens of the old tin-roofed miners cottages which have now all been transformed into a line of craft shops and restaurants.  Outdoor sculptures, gardens in bloom, walls adorned with enamel mugs and teapots, bunting, glass mosaics, wind chimes, a running water canal, dogs, kids and ice creams all added to the surreal atmosphere; it felt a bit like a Hollywood film set.   In fact it was so busy I struggled to park, so thought I'd cross the railway line and park in the church car park on the far side.   A large, friendly 'meisie' in a floral frock and bonnet waved furiously and indicated to me in Afrikaans that only church-goers were given special dispensation to cross the railway line to attend 'kerk' on Sundays, as the railway marked the start of the mine and entry was strictly 'verbode'.  I hastily retreated, just in time, as the vast gates with their headdress of razor wire clanged shut and the menacing sign in large red letters with a defiant cross through the symbol of a camera made clear their message; enjoy Cullinan the town, but don't mess with our mine!  Considering a large rare blue diamond has just been discovered there since my visit, I suppose the security is understandable.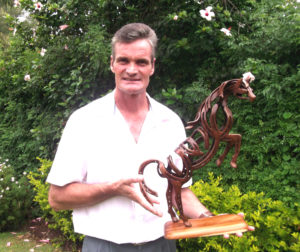 After months of emailing, I finally met Johan himself and his charming wife Cathlene, at the CullinanTrading Post in the centre of the aptly named Oak Street.  They run this craft shop together as well as The Sculpture Garden from their home in Hotel Street, and Johan shows his large outdoor sculptures, often made from recycled elements, as well as his more refined indoor work, at both.  After much chat and pleasantries, we decided to trial his sculpture in UK with "Denzil", a beautiful horse welded from bronze patinated steel horsehoes.  "Denzil" looked resplendent on our recent exhibition and has now happily trotted off to see the sights in London town, before galloping on to graze on pastures new on the Isle of Wight.
It seems that for me, Cullinan was a one-horse town after all.