When I casually mentioned in passing to the Gauteng ceramicists that I would be dropping in to see Andrew Walford when I was in Kwa-Zulu Natal, there was a collective and audible gasp. "You know what Bernard Leach is to the English?" explained Colleen Lehmkuhl; "well Andrew is our Bernard Leach; he is our 'God'."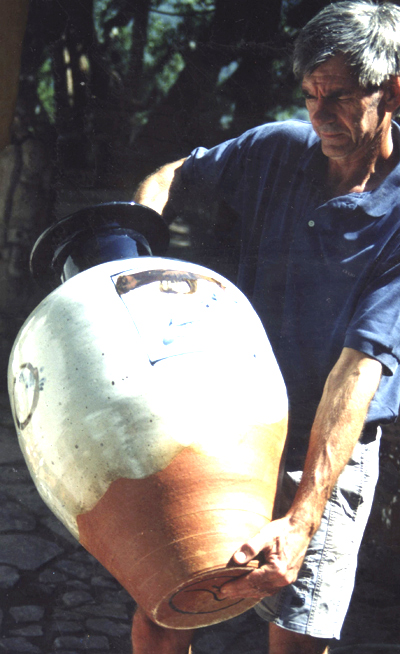 With those words ringing in my ears, I set off through the wonderfully named Valley of 1000 Hills, to find him on Block 9 of Zig-Zag Farm in Shongweni, near Assagay .  A twisty dirt road, long grass, pot holes and little sign of human inhabitation is the prelude to the property he has shared with his wife Leanda since 1968.  But upon arrival, a cobbled drive,  abundant frangipani trees, all in beautiful fragrant bloom, rambling sheds, carp fish ponds, chickens runs, the studio, and the characterful old thatched home  greet you with a spell-binding view out across the Shongweni Nature Reserve.  Leanda was welcoming in her homely kitchen surrounded by fresh produce and home-bottled preserves, while Andrew, his lean frame draped in an old T-shirt and shorts, ever the artist, took me straight to tour his studio and talk form, function, kilns and glazes.  He is fascinating and evidently a complete master of his subject.
Andrew emigrated to South Africa from England with his family at the age of five in 1947 in a twin-engine plane piloted by a Battle of Britain survivor – the flight took a week.  His eureka moment as a young adult was discovering a copy of Bernard Leach's "A Potter's Book" and this became his bible.  In 1966 Andrew travelled to England and met the great man, and he, as well as his Japanese equivalent, Shoji Hamada – who Andrew also met when he went to Japan – became Andrew's mentors and idols.  To this day, Andrew's work has a strong Japanese influence, evident in his use of clean lines and brush-stroke decoration.
When I mentioned the 'God' title bestowed upon him by his disciples in Johannesburg, he laughed, and voiced that some thought his contemporary Garth Hoets, who I was seeing the next day, might be in line for it.  So with anticipation, I wove up the windy hills to Sweetwaters, and was amazed by the 'free-range' cattle which languidly roam the edge of the main roads and literally lie next to people's gardens.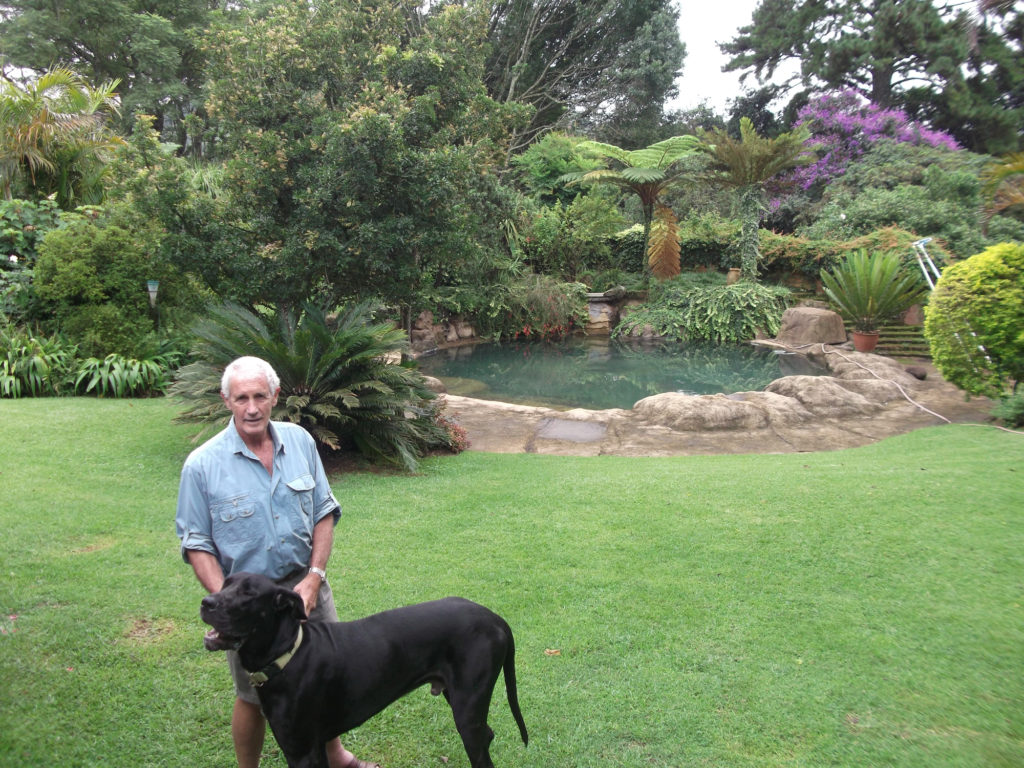 Garth hails from a family of potters and still teaches at his Pottery Studio.  A charming, distinguished and dignified septuagenarian, he armed me with a glass of sweet water (naturally) and was happy for me to browse in his show room with his giant Great Danes carefully picking their way through the pottery with a precision at odds with their enormity.  Like so many good artists he is modest about his work and judging by the dust which lay on the room full of beautiful pieces (and by his own admission too), retiscent at marketing it.  I was in heaven; not only entranced by his work, but by his expansive garden which is a lush tropical paradise.
I told him of the 'God' trail thus far and he immediately asked if I was going to see Lindsay Scott, because in his opinion he was a serious contender.  So armed with Lindsay's address, I set off to find his studio in Lidgetton; another journey up hills, round hairpin bends, down bumpy corrugated dirt roads, across rivulets in full flow in the current pouring rain, through dripping pine forests reminiscent of Nyanga and finally to a deserted looking pole and dagga shed, home to Hillfold Pottery.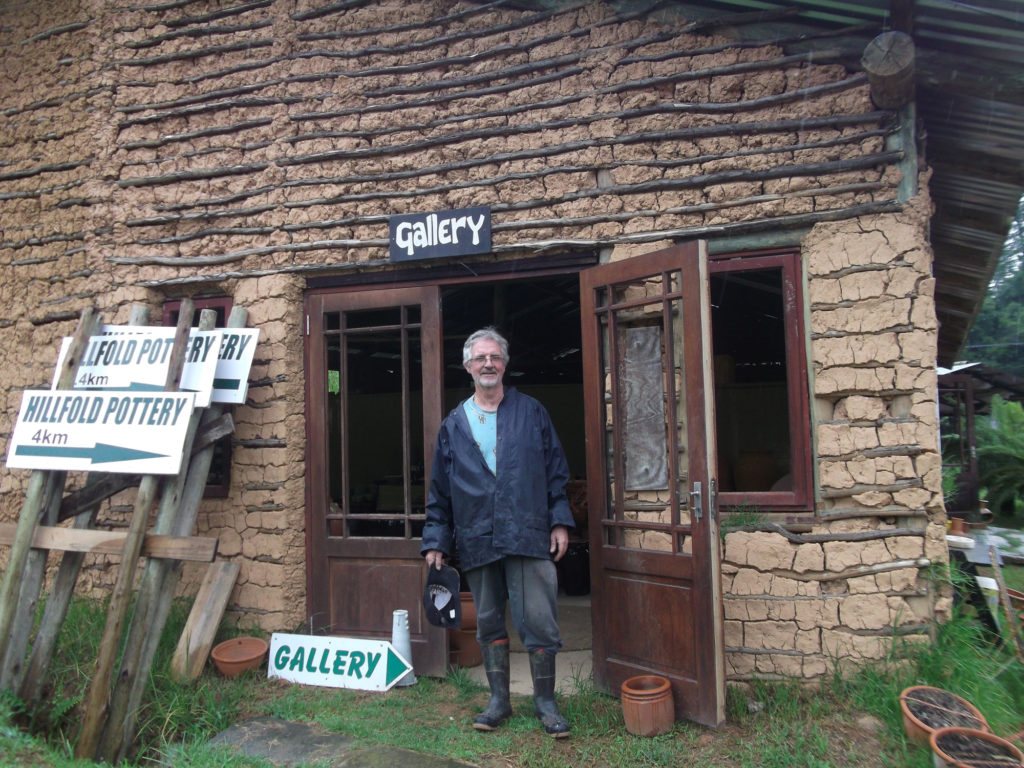 Lindsay emerged in waterproofs from the building site close to a beautiful dam where he is erecting a new studio, to show me around his work.  Quiet and reserved, Lindsay again lives for his work and gives the impression he would rather be creating than selling.  Having said that, he was instrumental in establishing the famous Midlands Meander in the region, to facilitate visitors wishing to visit bespoke crafters, and he has his work in top galleries throughout South Africa.  His ceramics reflect himself, serious, understated and genuine, like his sought-after soft and subtle celadon glazes.
Andrew, Garth and Lindsay; three friends, contemporaries and Fellows of the Ceramic Association defined as "artists who have earned this title for their commitment to the development of ceramics in South Africa as well as consistently producing work of a high standard".
So who is 'God'?  Perhaps they are the 'Holy Trinity'.