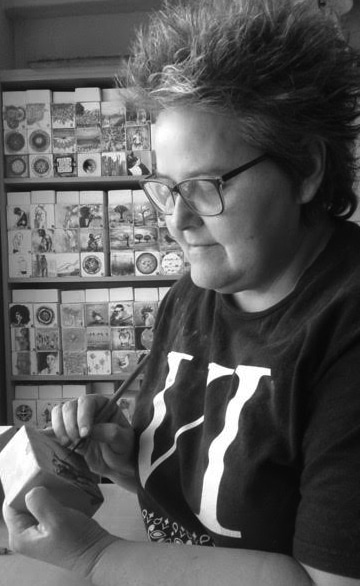 Evette who lives in Johannesburg, South Africa, produces a ceramic range called 'BLOK MYSELF'. This range of 9 x 9 cms ceramic art blocks covers a wide range of subject matter.
Using traditional ceramic techniques, the blocks are constructed using paperclay rolled into thin slabs and pressed into a mould. They are then covered with white slip which gives a smooth surface to work on. Evette scratches into and paints onto this surface using manganese oxide, stains, underglazes and different brush-on glazes. Blocks are fired to 1120°C.
Each block is 'one of a kind'. Beautiful individually, 'BLOK MYSELF' gives one the opportunity to create one's own artwork by hanging a variety of blocks to make and tell a unique individual story.