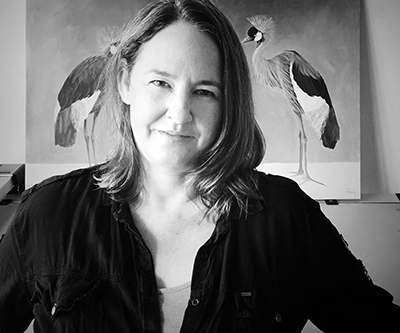 Polly Hosp has been a finalist in both the David Shepherd Wildlife Artist of the Year and the Society of Wildlife Artists in 2021/22 & 23. She also had artwork exhibited and sold in the RA Summer Exhibition 2023.
Polly's practice is built on a deep connection with the fragile natural world and a passion for the environment. She captures unique wildlife moments with a focus on animal behaviour, movement and storytelling, using a variety of printmaking techniques. Building on memories of the Kent countryside, plus over a decade living in the heart of the African bush, Polly's aim is to engage the viewer in big conservation issues through simple joyful imagery.
With a degree in Graphic Design, drawing is central but it is printmaking where Polly feels she truly connects with her subject.  She says: "It is something to do with the lack of control that printmaking presents; I can work away at achieving a particular effect, but it is not until it goes through the press and is transferred onto paper, that you see what you have created … sometimes it can be quite a surprise!"
Historically printmaking was about producing multiple copies of something, an 'edition', where each print is both original and exactly the same. Whilst Polly does produce editions, they are edition variants (EV) meaning that no two prints are the same. For Polly, what makes her prints interesting as originals is their difference.  Images emerge through the layering of process, where texture and tone transport the viewer to a new place. The line is integral, but the process is all about expression.  Polly says: "My works are a window on a world that is at peace with itself … where elephants roam freely, and birds dance to the rhythm of the wind."
Polly's editions are often a short run of 3 or 5; she will only bring those prints to completion where she believes each print is of the highest quality.  Polly personally prints on a hand press, every print is numbered.
Polly enjoys combining processes. Her ambition is to find the perfect combination of process that allows her to capture the pure essence of something, with just the right amount of detail …she realises this might be a life-long quest!!