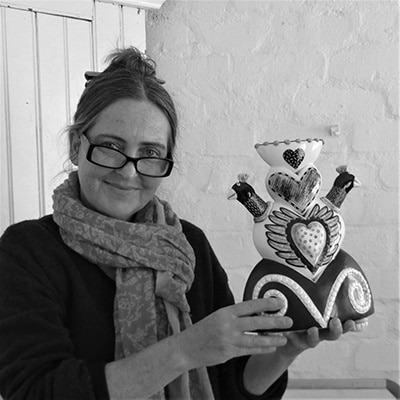 Tiffany was born in 1968 and graduated with a distinction Diploma In Ceramic Design from the
Witwatersrand Technikon in 1990. From 1997 to 2000 she lived and worked in the North of India as a project manager and designer teaching creative papier-mâché skills to local Nepalis. In 2001, she worked in Boston at the Feet of Clay studio in Brookline Village, before returning to settle in South Africa.
Tiffany's work is essentially a mix of styles and personal symbols, re-interpreted with her own unique quirky, and whimsical flavour. She says her work has more of an ornamental function then a utilitarian one, although most people actually enjoy using her ceramic teapots and vases. Her vibrant, colourful decoration on her pots happen mostly intuitively without pre-planning, reflecting her unique 'zany' textile patterns that echo her African environment.
Most of Tiffany's work is slip cast, using a white earthenware or stoneware slip, which becomes her canvas for decoration. She makes her own prototypes out of clay and makes her own plaster moulds which enables her to reproduce her forms. Every piece is treated uniquely with added hand built extensions and decoration. Her favorite shape to design and decorate is the teapot. Commercial under- glazes are used for decoration, with a Transparent glaze finish. Her work is fired in a kiln to 1200'C.
More recently Tiffany's work has taken a new direction whereby she is now press-moulding her forms using a white stoneware clay. She has created her own plaster moulds, and then adds hand-built extensions, resulting in a series of unique, one of a kind Ceramic sculptural center-pieces that are no longer utilitarian in nature, but rather visual comments on the 'human condition', more specifically the humorous side of our human nature. Under-glazes are used sparingly and a more 'quiet' use of color has emerged in her recent work, allowing her forms to have the louder voice.
Artist's statement :
"Clay for me is the medium by which I get to best express the stories and conversations from within, dealing with themes around human relationships, God, and the natural world and how these relationships interact and influence each other. It is through creating these 'decorative utilitarian objects' whereby I plan to capture something unique, something useful, with a dash of whimsy and a humorous edge to enhance daily living."
Influences :
Tiffany's work is influenced by the early figurative, utilitarian ware of Africa, namely Lesothu and Venda, where one sees a combination of sculpture and utilitarian shapes brought together and made useful for daily living; eg. a wooden cooking ladle with an animal head for a handle, or a clay cooking pot with feet. She has tried to capture something of this 'togetherness', using inspiration from her local culture, as well as the stylization of form seen in African stone and wood carvings. The sculptural center- pieces of the Art Deco period 1920s and 30s with their bold shapes and curved liquid lines have also given some direction to Tiffany's ceramic forms.
Other sources of inspiration:
Cubist paintings by Picasso, fauvist work of Henri Matisse, Miro's interplay of shapes and lines, naïve art of Henri Rousseau, as well as the work of local Zimbabwean sculptors. South African ceramicists, such as John Nouens, early sculptural works of Eugene Hon, Rhe' Wessels and Barbara Jackson and Bonnie Ntshalinshali from early Ardmore days. UK ceramicists, such as Richard Slee, Nicholas Homoky, Martin Bibby, Foley Pottery and Alison Briton. USA potters Akio Takamori, Rudi Autio and Richard Notkin.
Awards and Recognition within the Ceramics industry:
1989: Member of CSA (Ceramics South Africa)
1990: Style Magazine Design awards. Tea Set Competition. Tiffany won the 'Ethnic Category'.
1990: Won the 'Pentagraph Award' for Best Student of Design.
1992: Won First National Bank Prize for "Decorative Ware" at the 1st Corobrik Ceramic Exhibition.
1992: Article in National Ceramics Quarterly magazine.
Tiffany has her ceramic work published in "A Decade of Democracy" : South African Art 1994-2004. See https://books.google.co.za
1996: Highly Commended Award from Cape Gallery for Ceramic vases at Western Cape Regional CSA Exhibition.
1996:"Your Family Magazine" article August 1996, "Creative Ceramicist".
1997- Ceramic work on display @ Cape Town International Convention Centre. (Iziko Collection) 1997: Ceramic Work accepted for Permanent Collection at South Africa Iziko Cultural Museum in Cape Town, South Africa.
2012: Won an International Teapot Competition with Maritime theme, in Portugal, called "Seapots".
2012: Winning "Fish Teapot", part of permanent art collection at the South African Embassy in Lisbon.
2014: Article in CSA magazine (Ceramics Southern Africa) on "Whimsical Waves", solo exhibition. 2016: Highly Commended Award for Sculpture at the SA National Ceramics Corobrik Biennial exhibition in Johannesburg, South Africa
2019 Opening speaker for the "Colour of Clay" Exhibition @ Fynarts Festival in Hermanus. 2020: Finalist for Innibos SA Craft Awards 2020: Ceramics for Charity event, online @ UK. 2021: Top 40 Finalist for Vuleka Art competition @ Art.b. Gallery
Exhibitions: Both Nationally (SA) and Internationally (New York, Germany, Malaysia)
1992: Ferguson Fine Art Gallery, Rosebank, Johannesburg, South Africa.
1996: Pottershop Gallery, Kalk Bay, Western Cape, South Africa.
1997: Pottershop Gallery, Kalk Bay, Western Cape, South Africa.
2014: Art In The Forest, "Whimsical Waves", Constantia Nek, Cape Town, South Africa. Group E
2014: CSA Regional and National Exhibitions.
2015: Group exhibition, Mercurial Cats @ Alan Lutge Gallery
2015: Women in Clay @ Art In the Forest Gallery, Constantia Nek.
2017: Group Ceramic Exhibition : Beyond Fire @ Windsor Hotel in Hermanus.
2017: CSA Regional Exhibition @ The Alphen, Constantia .
2018: Group Exhibition at 'FynArts Festival' in Hermanus.
2018: Cacti, Birds and Fynbos exhibition @ Rust –En –Vrede Gallery in Durbanville.
2019: Color of Clay Exhibition @ Windsor Hotel, FynArts Festival, Hermanus.
2019: Participant of the Luxembourg Art Prize.
2020: CSA Regional exhibition @ Rust- En – Vrede, Durbanville.
2020: Creative Collection Exhibition / FynArts Covid programme, Hermanus
2021: "Touch of Gold" Ceramics exhibition / FynArts Festival (online due to Covid )
2021: "Winter Solstice", art exhibition @ The Cape Gallery