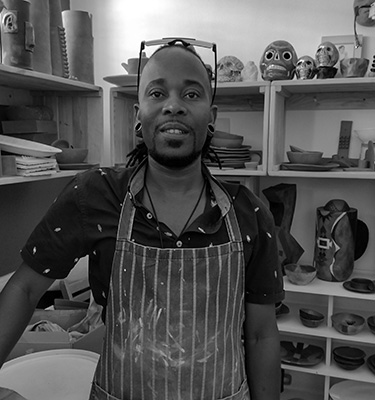 Being a hand-builder making highly detailed pieces, Sandile may produce only five cups in a day. "Just painting, scraping, starting again until I'm happy. And tomorrow, I'll do another five. It's labour intensive, but we do what we do for love," he laughs.
Sandile was raised by his grandparents in Umlazi Township, in KwaZulu-Natal. During holidays and celebrations, Zulu villagers would come from the countryside. The village men would tell the township children about cattle and teach them how to fashion cows from clay. For 7-year-old Cele, this was a revelation. He made a little clay cow and was hooked. "I just kept on making cows."
His love for clay never waned and after high school he enrolled in Fine Arts at Natal Technikon, majoring in ceramics. A few years later, he moved to Mpumalanga Township to work with ART AID, helping emerging artists hone both their professional skills and their craft. He also worked as a consultant with the Cape Craft & Design Institute and other South African art organisations to promote black South African artists.
In 2005, Cele met noted South African ceramic artist Clementina van der Walt, who hired him as a studio assistant. This is where he refined his skills and began making his own work. In 2016, after steady encouragement from Andile Dyalvane and John Bauer, Cele made the leap and started SBC Design Studio. Cele is now the artist in residence at Collaborate CT, a gallery, café and co-operative located in the Cape.