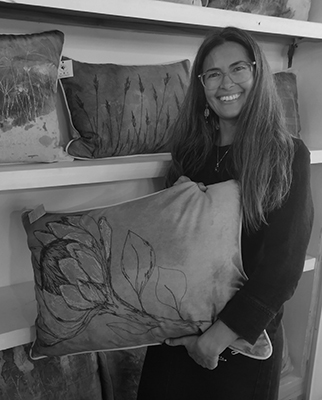 Perfectly imperfect home decor handmade by South African sisters, Emma and Leila.
"Inspired by the Cape's natural beauty, we have created a range of unique, timeless soft furnishings for your home. Our designs are a celebration of what surrounds us, and are hand drawn and then stitched using free-motion embroidery, which gives the feeling of 'drawing with thread'. This freehand machine embroidery technique used to 'draw' with thread means that each product is one of a kind.
Our products are all embroidered with motifs that take inspiration from the protea and fynbos family predominantly. Through each stage of their development, from raw material to finished item, our products have been handled with care and attention. It is this human connection that is invaluable to us.
We use long lasting sustainable fabrics including natural cottons, linens, and hemp. We believe that through every small change for the better, we are all working towards a collective sustainable goal.
We offer a bespoke service as well as our offered range; if we can draw it, we can stitch it! Our mission is to celebrate the uniqueness of our products."