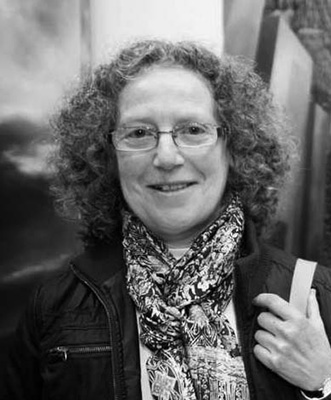 Janice Rabie has been producing ceramics since the 1980′s and has held solo exhibitions and participated in numerous group exhibitions. Janice makes functional ware in porcelain. The work is slip-cast in moulds and this gives her the smooth surfaces, clean minimalist lines and refinement that she likes. After decorating, the work is fired, then glaze is applied and it is fired a second time. Sometimes gold or mother-of-pearl lustre is applied, painstakingly in small amounts after the glaze firing, and in this case the item is fired a third time to harden on the lustre.
Her round and oval boxes are unglazed on the exterior; "I love the texture of unglazed clay coupled with subtle and delicate decoration". The lids of these pots are what she calls "plant figures". The inspiration for these are particular plants that attract her with their sculptural possibilities, like succulents, amaryllis, water lilies, or delicate sprouting seedlings just coming out of the ground. Plants growing against all odds in arid environments like the Karoo or Namaqualand seem metaphorically rich to her.
In 2006 Janice won the 'Ceramics Art and Perception Award' at the National Ceramics Exhibition. She is a graduate of the Michaelis School of Fine Art, where she majored in sculpture, and also of the South African College of Music, both at the University of Cape Town.