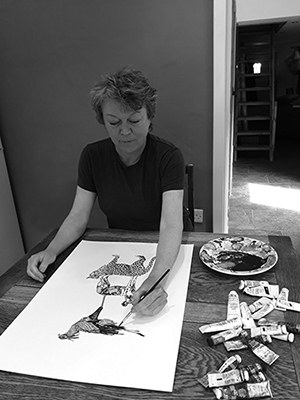 Sarah Pratt is a highly skilled printmaker and painter specialising in copperplate etching, linocut, collagraph, and monoprint as well as gouache paintings rendered in fine detail.
She begins her work with a subject or animal that interests her and then imagines what unexpected relationship to build with another. The results are mapped in the final artwork where pen, paint, print, or ink materialise her subjects. Her current interest is in drawing and painting with gouache, pen and ink; but it is the process of layering (so fundamental to printmaking) that continues to influence her aesthetic. Pratt relishes the juxtaposition of unusual or discordant subjects and the absurdity and humour of dreams. Witty and endearing, Pratt's works also communicate her own personal struggles with space and place, the loss of a beloved pet, or humanity's tenuous link with the natural world.
Born in Zimbabwe in 1972, Pratt spent ten years teaching printmaking part-time at UCT's Michaelis School of Fine Art, Cape Town, where she completed her MFA. The artist currently spends her time between Wales and South Africa. She often works on projects that take her to places renowned for their natural beauty and wildlife – such as Zimbabwe, Rwanda, and Tanzania – where the landscape, flora, and fauna are so inspiring that it is unsurprising that they find their way into Pratt's exhibitions. She is an extremely prolific artist, constantly creating, and actively participating in exhibitions.
2021 Solo Exhibition – 'Only If You Look Closely'.
2020 'If It Wasn't For Us' solo exhibition at Salon91.
2019 'Night and Day' solo exhibition at Salon91.
2018 – 'Migration' solo exhibition at Salon91; 'Turbine Art Fair', Johannesburg, Salon91 Booth. 2017 – 'The Dark Forest' at Rust en Vrede Gallery; 'Oracle' at Salon91.
2016 – 'The Fox, The Owl and the Robber', solo exhibition at Salon91; 'The Grand III' at Rust en Vrede Gallery.
2015 – 'Dog Days', solo exhibition at Salon91; 'Narratives' at Rust en Vrede Gallery.
2014 – 'Away', solo exhibition at Salon91.
2013 – 'I'd Rather be Swimming', Salon91; Lytton Street studio Exhibition, Cape Town; 'Shoes from Chinese Ships' at Salon91.