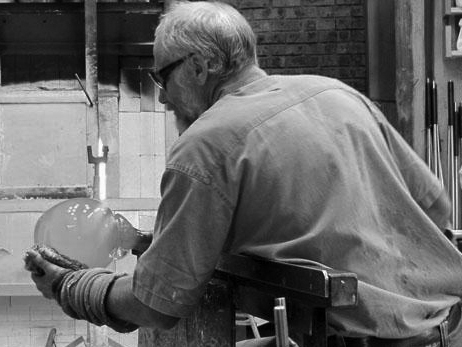 Guido van Besouw is one of a small handful of recognised glass blowers in South Africa. His career as an artist began in 1977, when aged 26, he got the opportunity to serve as an apprentice under Anton Voorveld, an established stained glass artist at the time. In 1980 Guido got his first major break by being commissioned to create a set of windows and skylights for the Grill Room at the Royal Hotel in Durban. Over the next ten years he was to produce many windows for churches and private residents around South Africa. But in 1984, Guido was invited to a group glass art exhibition at the NSA gallery where he saw blown glass by Shirley Cloete, David Reade and Barry Thompson, and he became fascinated by the potential of this creative medium.
In 1994 he started in earnest to research the possibility of blowing glass and exploring the technique for making his own glass for stained glass windows. By 1996 he had built a furnace, acquired kilns and had most of the tools needed to blow glass. Early in 1997 Guido started making his own glass, teaching himself and developing his skills along the way.
Today, Guido van Besouw creates a large variety of glass, including blown tabletop arts glass, glass lighting, architectural glass and decor glass, which he supplies to art galleries, shops and interior decorators around the country. Every piece is hand blown by Guido at his studio where sand and fire are transformed into pieces of art. Each piece by him is individual and uniquely different in colour, size and shape. In 2003, he was awarded the SA Elle Deco International Design Award for tabletop glass and his work is regularly featured in exhibitions and magazines. Guido has been working with glass for so long, he understands the medium and its potential, and has a unique ability to balance and match colour. He draws his inspiration from nature and his years of experience in creating stained glass windows.