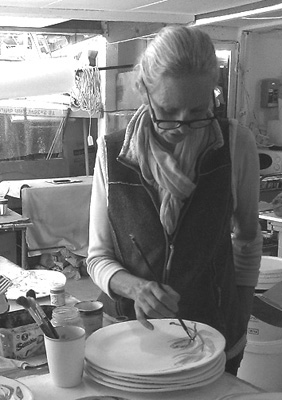 Theresa Wormser lives and works in the rural coastal village of Kommetjie in the Cape. She draws her inspiration from nature, and her work reflects the shapes, textures and patterns of the environment along this unspoiled Atlantic coast line.
Made of durable high fired stoneware, her range of ceramics is both microwave and dishwasher proof. Earthy textured surfaces and a unique neutral wash combine nature with style, insuring these ceramics are timeless.
"For me, the greatest highlight of the business is seeing the commitment, passion, determination and transformation of the people I employ. I have learned that success only comes when you stay true to the vision."
A highlight is watching Theresa paint, free hand and standing up, whilst she chats to visitors.