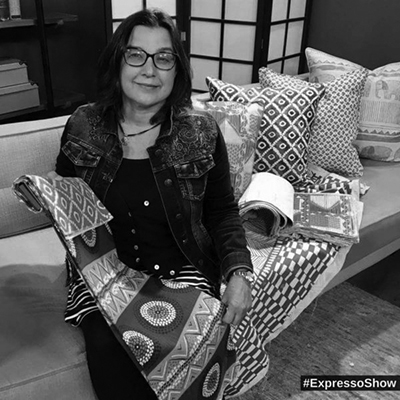 "I started painting textiles from my garage in 1993. It all started with a desire to earn a good living doing something creative and contributing to poverty alleviation in South Africa. I was not trained in textiles and I realize that it was a pure passion for colour and design, and sheer determination to create something beautiful that finds us where we are today.
My business grew into a family business and this is the solid foundation on which it rests. We now employ 40 people. The people that work for us are vital to the success of this business. Everything is handmade, both hand-painted or hand-printed, and therefore very labour intensive and exacting.
We are very proud to have the opportunity to train and employ many previously disadvantaged individuals. We have a policy of job creation and training especially for unskilled or semi-skilled workers and in our small way we contribute to redressing the ills of the past regime and poverty in Africa.
The beautiful handcrafted range covers a wide variety of table linen and accessories. I think for me the most exciting part of the business lies in the design and product development leading to a quality product truly appreciated by our loyal customers. We produce everything ourselves and we are 100% Proudly South African."