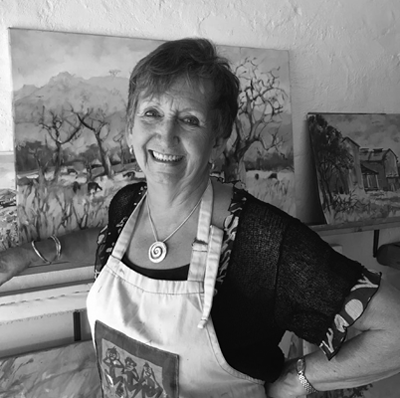 Sheena Chadwick, brought up in Orkney, Scotland, has been in Zimbabwe since 1963 and began painting seriously in 1973. She has taught both from home and in workshop sessions round the country and was part of the teaching team of Asekela Painting Holidays mainly instructing overseas visitors. She is now regarded as one the best artists in the country today.
The landscape has been Sheena's favoured subject over the years, and oils on canvas her favoured media. Sheena excels at this subject, aptly portraying the rich earthy tones of Africa, with its big skies, wide horizons, immense trees and open spaces. Always painting 'en plein air', Sheena travels all over southern Africa to capture the breath-taking vistas, the vivid hues of nature and the ever-changing light.
Sheena  exhibits extensively in Harare at various selected exhibitions and at the National Gallery of Zimbabwe, and is generous with her advice and tuition to local aspiring artists.  She was a featured artist in the International Artist Magazine issue 20. And as she feels it is a joy to work with others sharing ones interest,, Sheena has been in a group named The Workshop since its inception some 20 years ago. Sheena's work can be seen in corporate and private collections locally and internationally.