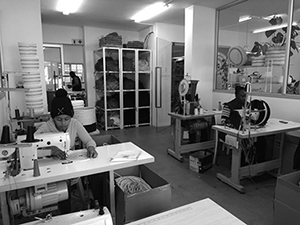 Mia Mélange believes in empowering women and creating opportunities. We are passionate about our local community and strive to create jobs for previously unemployed women in our area. At our studio in Stellenbosch, we have a small team of highly valued crafters which are carefully trained and given a life skill. Our designs are inspired by a love for nature, texture, natural materials and ancient crafting techniques. We like to combine all of these to create modern and functional design.
At Mia Mélange, we use locally sourced products. Our products are made from 100% cotton rope. The cotton is grown locally in South Africa by farmers who are members of the Better Cotton Initiative (BCI). The yarns are spun in South African mills. The rope is braided locally in Cape Town. The BCI is a non-profit that promotes better standards in cotton farming. Cotton from licensed BCI Farmers is more sustainably produced. BCI meets UN's goals to achieve better global water sustainability and sustainable agriculture. BCI also promotes use of better irrigation practices with farmers, reducing the use of fertilisers, as well as fair work practices.
Cotton is a true renewable source of fibre and has been used for more than 7000 years! Unlike fossil based fibres, cotton is sustainable, renewable, biodegradable, and carbon neutral and can be used without depleting or damaging the environment, thus aking it an excellent choice as an environmentally-friendly fibre throughout its entire product life cycle.