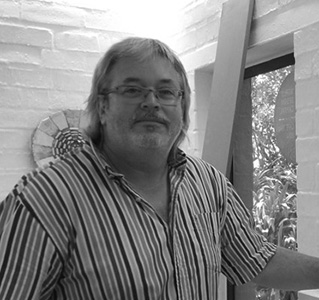 Hennie Meyer is a highly acclaimed South African ceramicist. From 1993 to the present day, his CV monitors his meteoric rise through the ceramic art world, his prowess being recognised by the countless awards he has received. He is published in numerous art books and was awarded a medal at the Fifth World Ceramic Biennale in Korea. He was also invited to the Ceramic Art London show held at the Royal College of Art for the last decade.
His commission of the massive Quinci project in Indonesia and his 2015 one-man show in Devon at the Tim Andrews Gallery entitled "Solo Solar" as well as a residential and exhibition in Western Cape entitled "Paternoster Inspired" are more recent successes.
Hennie is a furious worker and constantly pushes himself to new limits, so his work is always changing and evolving, and he is in demand to show at a variety of venues all the time. 2017 and 18 examples of this were his two-man shows at Rust en Vrede in Cape Town and Wordefees in Stellenbosch.
He has a passion for shape and form, and his strong signature style can be balanced by intricate decorative detail. His work is completely unique, instantly recognisable and eminently collectable.