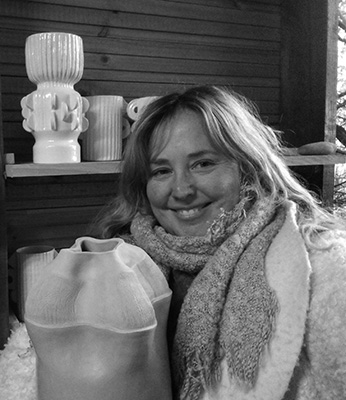 Jade Snell is a ceramics artist based in Wilderness on the beautiful Garden Route in South Africa. In 1998 she started her career in film and television as a make-up artist in Cape Town while always hankering to express herself more creatively. In 2013 she began working with clay, a medium she was familiar with from childhood. After a good response to her ceramics, Jade Snell Ceramics was formed in 2015 just as she began life as a mother with the birth of her new son. And in 2017 her dream of living closer to nature became a reality with her move to the Wilderness.
Jade's inspirations and influences come from natural materials, land formations and the surroundings she lives in; but also fashion, textiles, architecture and of course that indefinable well from where spontaneous feelings and ideas are generated.
Using mostly stoneware, her designs are fired to a medium to high temperature of cone 5-6. She often leaves the clay body raw, preferring the purity of the texture and allowing the form to be the focal point. Jade's work has been exhibited in galleries, hotels, and interior shops both locally and internationally, and her pieces are now collected by private clients, interior designers and architects.