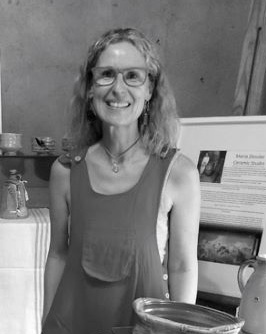 Maria studied pottery in the former East Germany in 1987 and 1988. Her main teacher was the master potter Ragnavald Leonhard. After living in the United States for two years, Maria and her husband moved to South Africa. Here they work with Mercy Air, a non-profit humanitarian relief organization that serves impoverished rural populations. With the inspirations gathered from Native American and Mozambican potters she began to build her ceramic studio in Mpumalanga.
Her love for salt glazed and wood fired pottery came from her childhood where old traditional pottery of this kind was handed down from generation to generation. The versatility and durability of the pots captivated her.
In 2015 Maria was privileged to be invited as international ceramics artist to the first International Bhutan Art festival in Thimphu. Here she worked one on one with the last of the Bhutanese potters learning immensely from their rich heritage. Her extensive travels have left a mark on the patterns and influences shaping her pots which are ravaged by a raw imperfection.
In essence her pieces reflect highly functional stoneware ceramics moving away from a perfectionist reproducible design to allowing the clay to develop the story through subtle guidance.
What is wood fired, salt glazed stoneware?
Following an old German tradition from the 15th century, the clay is hand thrown on the wheel, Bisque fired, hand painted and decorated.
This is where the final refining hours take place.
The pots are stacked inside a specially designed wood fired kiln. After approximately 14 hours of carefully watching and controlling the fire, the temperature has risen to 1320℃. At about 1240℃ rock salt or soda is introduced into the white glowing fire chamber. The kiln is then fired to 1320℃ to help the exceptional and extremely durable glazing of the pots to react and form. The ash and flames of the fire leave a lasting and unique element on each individual pot. After more than 24 hours of cooling, the kiln is opened with excitement revealing what has happened in those hours of exposure to the heat. The results seen are always different, unpredictable and epitomize a raw imperfection. Due to the art of firing, every piece has received its own signature of fire, heat, ash and glaze.