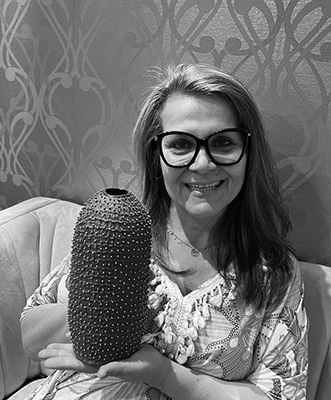 Gari is a celebrated South African ceramicist whose work embodies the delicate beauty and impermanence of the human condition. Through her intricate, cocoon-like creations, she invites us to rediscover the power of tactile sensation, human connection, and playful ingenuity that define us as biological beings. Gari's vessels, with their embryonic forms and interplay of light and shadow, speak to the depths of our collective psyche and serve as a shield against the cold, algorithmic world that surrounds us. Drawing on the rich history of clay and her own ancestral heritage, Gari's art weaves together the threads of tradition and innovation to create stunning pieces that are both timeless and timely.
Gari values authenticity above all else. In 2016, she discovered the transformative power of clay, which has since become her anchor, reminding her that imperfection is what makes us human and deserving of love. Before she relocated from Johannesburg to Knysna she won the prestigious Van Tuyl Kiln Award for Best Organic Form at the Gauteng Regional Ceramics Exhibition in 2019 and 2022. Gari has been recognised at the Innibos National Craft Awards annually since 2019, and her work was featured in the Ceramics For Change Exhibition in support of Black Lives Matter, Anti-Racism, Human Rights, and dignity for all.
Gari's passion lies in the delicate nature of porcelain, which she skillfully combines with natural fibers to create unique and captivating pieces. She is an artist with a unique vision and a passion for creating stunning pieces that remind us of the beauty in imperfection.