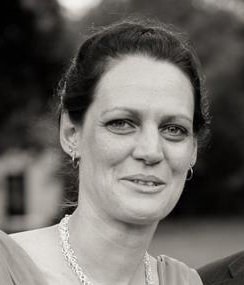 As the 4th generation of a jewellery and watch making family; jewellery, the love of metal and form is in my bones. My great-grandfather was a watchmaker who opened his first store in Caterham, Surrey in 1921. Before the Second World War my grandmother, following the family tradition, worked as his apprentice. In 1948 the family moved to Northern Rhodesia and the business passed to her younger brother. Following their well-trodden footsteps I am now the first creative jeweller in the line.
I started my career in 1995 working for Alan Murray Jewellers in Zimbabwe. Due to metals restrictions we worked a great deal in remakes of estate jewellery. This led me to study Gemmology though the Gemmological Institute of America. I moved to the UK due to the worsening situation in Zimbabwe and continued my gemmological qualification while working in the music industry.
Still passionate about jewellery, in 2004, I returned to study, and qualified in jewellery manufacture and object design. My designs have shifted away from the emphasis of wealth and status that traditional jewellery offers, to an exploration of the purity of forms. In my design work, this is embodied aesthetically through the repetition of simple forms to create complex designs.
In 2008, I started my own business specialising in hand made chain that was both traditional and contemporary. I only use traditional making techniques and everything is made by hand (with the exception of clasps). I currently divide my time between the UK and Australia.