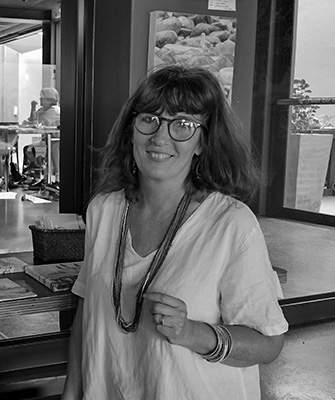 "I am a landscape artist working predominantly in oils. My interest lies in capturing the dynamics of the landscape and exploring the relationship of figures and animals in the environment."
Born and raised in Zimbabwe, Nicky studied Fine Art at the University of Natal; worked as a graphic artist in the advertising industry and later became a secondary school art teacher. Marrying into a family of artists including her sister-in-law Gilly and mother-in-law Wendy, she also ran the Rosselli Gallery in Masvingo, Zimbabwe for 10 years.
Passionate about Southern Africa, Nicky claims there is something about its drama, mood and essential monumentality that inspires a fascination with colours, shapes and the underlying abstract forms of the land.
Since living in South Africa, the aloes of the Eastern Cape and the immense space and extremes of the Karoo have featured in her work. Drawings evolve from a curiosity about the life in these open spaces and lead her to explore images of farm animals that relate to her youth. Her dominant use of line by makes each expression and character unique and specific to her style.
Nicky is now living in the Western Cape and back to teaching art as well as pursuing her own painting career.