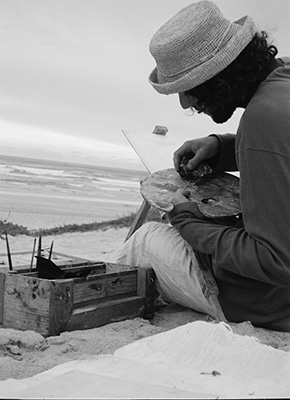 Stuart Dods (b.1995) is an emerging South African painter, sculptor, musician and photographer . Raised in Hermanus, he witnessed the small town's working-class, inspired by fishermen, construction workers and business owners. Stuart discovered early on that he had a deep admiration for painting. He started exhibiting works with the Rossouw Modern Art Gallery who supported his creative output.
Stuart chose not to obtain a formal education in art, instead seeking inspiration and freedom of learning amongst his artistic peers. He moved into his first studio, which became known as the "The Ice Factory", in Cape Town in 2015 and this was instrumental in shaping his artistic vision. The studio was previously occupied by South African Artist , Bastiaan van Stenis, whose work had a huge influence on Dods.
In 2018 he began an apprenticeship with South African artist Beezy Bailey. Their friendship quickly evolved to the point where they collaborate in sculpture and explore on landscape painting trips regularly. At the end of 2022 , Stuart returned to his old studio where he hosted his first solo show "Pipe Dreams". The studio now plays host to various collaborative music and art events.
'En plein air' has painting became an essential part of Dods's training, as he embarks on various painting trips across Africa, Europe and England. Working alongside Niel Jonker in summer 2023, they went on a road trip, painting landscapes of the English countryside. Back in South Africa, Stuart is based in Bo-Kaap, where we works and lives. But he is often on the road, capturing the magical light and shadows of the land.
EXHIBITIONS
2014 – Exhibits first work – Rossouw Modern Art Gallery , Hermanus – SA
2021 – Duo Show – DOUBLE VISION, Glen Carlou Vineyards
2022 – Group Show- Death Row Dinner , The Fourth Gallery , Cape Town
2022 – Duo Show – Double Vision , Hermanus Fun Arts Festival, Hermanus South Africa
2022 -Group Show – "Bewegnung", kart-culture , Gampenstraße 1, 39010 Tscherms
(BZ), Italy
2022 – Group Show – "Obscure Obscura" , Barrydale Analog Photo Festival , Karoolkie
Gallery – Barrydale South Africa
2022 – Solo Show – "Pipe Dream" , The Ice Factory , 89 Church street – Bo-kaap – Cape
Town South Africa
2023 – "Sound and Vision" , The Ice Factory , 89 Church street – Bo-kaap – Cape Town
South Africa
2023 – Group Show – "Anima", The Ice Factory , 89 Church street – Bokaap – Cape
Town South Africa
2023 – "Sound and Vision" , Africa Burn, Tankwa Town, South Africa
2023 – The Fourth Group Show – Coach House 61 – Kerkstraat 61 , Amsterdam,
Netherlands