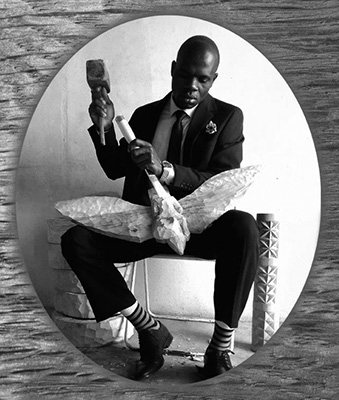 Blessing was born in 1985 in Gutu, Zimbabwe. Living in a farming area, he began carving wood at a young age and, using an axe, he would make cattle yokes, ploughs, cooking sticks and mouse traps. In 2004, he began a three year woodcarving course in Masvingo at the Driefontein mission. To raise funds for his woodcarving tools, he laboured as a seasonal worker picking apples in Grabouw, South Africa. By 2010 his dreams were realised and Hohodza wood carving was born.
Hohodza, the Shona word for a Woodpecker, comes from the sound the bird makes while hammering rapidly on a dead tree. Woodpeckers are nature's original wood carvers and do not get headaches from banging on trees! Just as a woodpecker uses only his beak, Blessing uses only his hands and a limited number of hand tools to create his sculptures. The only power tool used is a chainsaw to cut the logs to the sizes needed. The rest is completed by hand, using up to 30 different chisel tools, making each piece unique.
The timber used by Hohodza is sustainably recycled from fallen or necessary felled trees. Usually these are aliens to South Africa such as Jacaranda, Camphor and Bloodwood trees.
All custom made figures are individually sketched, carved, stained and treated. Hairline cracks and blemishes are natural markings of the wood. Blessing now has clients from all over the world.
Showing the single result