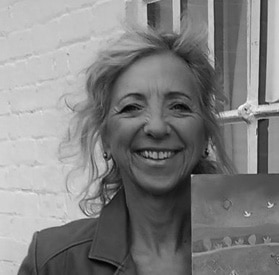 Julia grew up in Oxfordshire, but began travelling when she was 18. It was during her travels in Kenya that she became inspired to paint, attracted by the colourful Masai and their intriguing lifestyle, with whom she worked for several months. Travelling to Botswana, Julia discovered a country that was to become home for 9 years and where she began to paint in earnest. Living for many years in the Okavango Swamps, Julia painted the landscape and natural history, often perched in rustic dug-out canoes or sitting on a sand bank keeping one eye open for crocodiles!
Through observing the African people and the daily life there, Julia developed a more whimsical style of painting that has become somewhat of a trademark for her and enabled her to continue with her work when she went to live in U.S.A.
In 1992, Julia married an American biologist, and with their children they have moved from California to Canada and now to New Mexico, where they are happily living outside Santa Fe in the historical village of Galisteo. The light, colours and unique natural history of the area are compelling but visits to Morocco, Zimbabwe and most recently Boswana, happily keep her in touch with Africa.