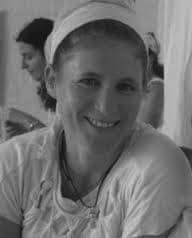 Shelley Maisel is a highly acclaimed South African ceramicist who has exhibited extensively throughout the country. Living in the arty community of Noordhoek on the Cape Peninsular, Shelley constantly explores new shapes and textures to advance her earthy range of organic ceramics. The materials and decorations of Shelley's work not only portray her interests, but also reveal subliminal influences. The colour and texture of the clay and the hand-painted edges and circles embody the artistic expression of primitive cultures.
"My inspiration is drawn from many sources. I have always been influenced by African, Aboriginal, Pre-Colombian, Oceanic, American Indian and South American art. I find their use of colour, intricate design, symbols and elements of nature, both beautiful and fascinating. In turn I express my love for clay and colour through my work, using many elements of nature as inspiration."
Shelley also forms her vessels by using the same clay hand-building techniques favoured by these cultures, namely coiling and pinching.