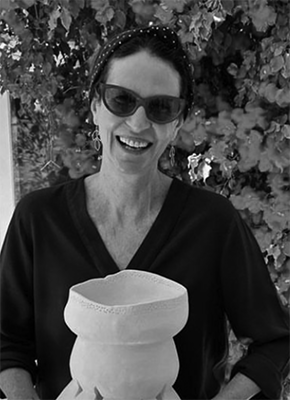 Lella Kondylis has been involved in the art world for quite some time. She was a decorative painter specialising in trompe l'oeil for 15 years. She established the Art Department at Capricorn Primary in Vrygrond, where she worked as volunteer.
Lella has always felt drawn to pottery. In 2017 she decided to try her hand at porcelain. She bought a kiln so she could control every aspect of the process. She works very organically and is never quite sure where the design is taking her.
Her love of nature is reflected in her work. A keen hiker and rockpool explorer she finds inspiration in the abundance and beauty that surrounds her in nature and her garden.
Lella has been involved in numerous group exhibitions in Cape Town, Plettenberg Bay, Hermanus and Riebeek Kasteel. She supplies galleries around South Africa and sends work abroad.
Her philosophy is that it is important to have fun playing with porcelain!