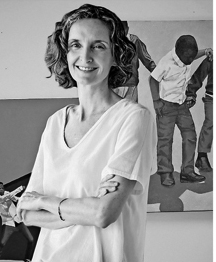 "Some journeys start with a packed car, a thermos of coffee, and a clear route to a definite end in sight. Others, start tentatively, with a series of seemingly unconnected waypoints to an unimagined destination. And it is only in hindsight, that one realises that each way point served to prepare and provide the traveller with the necessary knowledge, skills and empathy, for the work ahead."
Ashling McCarthy, anthropologist, creative, writer, and social change maker and facilitator, believes each way point on her journey has been a stepping stone. While they might appear to be unconnected, the next step only occurred because of the one before it, and each continues to influence her work.
Studying as an anthropologist laid the foundation for her advance in the field of social development. She learnt that there is beauty in diversity; that everyone has something to contribute. Because of this, everyone should be given to the opportunity to participate in solving problems that directly affect them.
Ashling enjoys working on projects specifically aimed at bringing about social change in South Africa, which she believes is possible, but requires a transformation in thinking and a human-centred approach. This means meaningfully engaging with people, understanding their contexts, wants and needs, and allowing them to participate in the process of finding solutions to the challenges they experience. Because the brain that holds the problem, most often holds the solution.
Additionally, she believes painting is a way to encourage conversation and collaboration to improve lives.