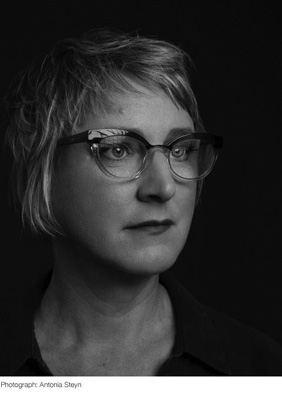 Born in South Africa in 1967, Jenny graduated in Fine Art and lectured at the Natal Technikon before moving to Cape Town in 1991. There she has worked with the Community Arts Project, the Durbanville Cultural Society and the Ruth Prowse College of Art and Design where she was head of the Fine Art Department. Since 2000, Jenny has been a full-time artist, exhibiting regularly in South African galleries. In 2011, Jenny was resident at the Cite Internationale des Arts in Paris. Jenny works mostly in oils, chalk pastel and monoprint, and thinks a landscape painting is a place for the eye and mind to play, where the experience of the landscape and the act of painting hold equal importance. She has a fascination with vertical objects such as trees & flora, and thinks they suggest, and in fact replace, a human presence. She also enjoys developing her understanding of the urban landscape. She believes the visual conversation between horizontal and vertical, mass and detail, solidity and fragility further explore our human relationship to the land.
Jenny took a year out a while ago to return to art school and do her Masters. She returned to painting with a fresh eye and a re-energised perspective. On the back of this, she and her husband traded the congested chaos of Cape suburbia for the space and tranquillity of the Swartland, and Jenny became a central figure in the growing artistic community of Riebek Kasteel and Darling.
But city life, with its galleries and exhibitions, has its allure, and now Jenny and her family have migrated back to Cape Town, where she is in much demand and her work goes from strength to strength.