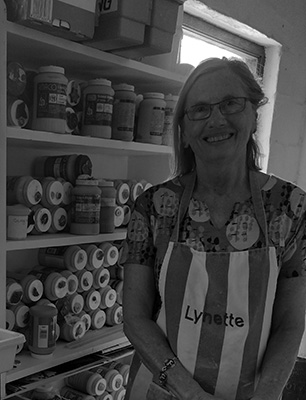 Born 1952, Lynette trained at Natal Technikon and she has been teaching as a high school art teacher for over 23 years.
She has had work selected for Regional, National and Biennial competitions since 1995 and has won awards at all these levels.
Lynette's work has been selected for many exhibitions and she held her first solo show in 2009.
She has taught and potted in her studio in Durban, for many years, before moving recently to Pringle Bay in the Cape, where she has opened a teaching studio, as well as on a private game farm near Hluhluwe in South Africa.
Lynette has had a solo exhibition and many group exhibitions where she has explored narratives of politics, feminism and art history within the parameters of clay. She has won awards for her work and her work can be found in galleries in South Africa and in private collections.
She was chairperson of Ceramics Southern Africa for over 10 years, resigning in 2017.