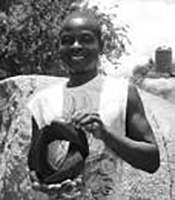 Richard was born in 1998 in Chitungwiza, a conurbation of Harare, Zimbabwe and he was educated in the town of Chinhoyi in Mashonaland West. From a very young age, he had strong passion for art, starting with drawing and later experimenting with graffiti and working in mixed media with recycled materials.
Since he began pursuing stone carving professionally in 2015, his mentor and inspiration has been the artist Davies Sibanda. Davies has had a huge impact on Richard's art work, influencing his orientation towards abstract art. In addition to Davies, Marshall Mangwere has also mentored Richard to help him develop his technique.
Richard enjoys creating abstract art work depicting the movement of wind. He likes to work on different types of stones such as springstone, butter jade, opal stone, leopard rock and white marble dolomite. Richard is young but he has a strong ambition to participate in international exhibitions and workshops in the future.
Showing the single result