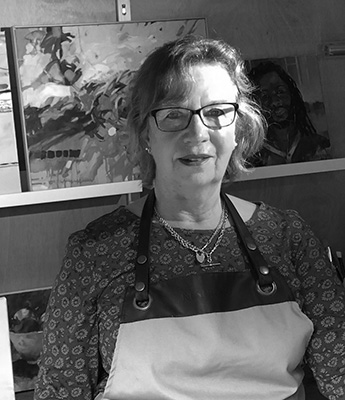 Liz is passionate about colour, light and shade and the ordinary loveliness that surrounds us in our homes and lives. Her style has evolved from early fine pencil sketches and pen & ink works, through watercolour to the soft juiciness of oils which feel like her natural home and suit her painterly style perfectly.
Liz was born and raised in South Africa, surrounded by the intense light, colour, endless vistas and diverse ethnicity which are its hallmarks. She studied art at school and then performance art at University. Raising a family followed by a corporate career put art on the back burner for Liz, but all aspects of creativity have always been as vital as oxygen to her and she has always dabbled in painting and craft.
A recent move to the UK has allowed Liz's art to take a more central role. Winning the top award at a prestigious art competition in Berkshire on her first formal exhibition has given her enormous encouragement. "I am moved by the magic of the mundane" says this optimistic and understated artist.