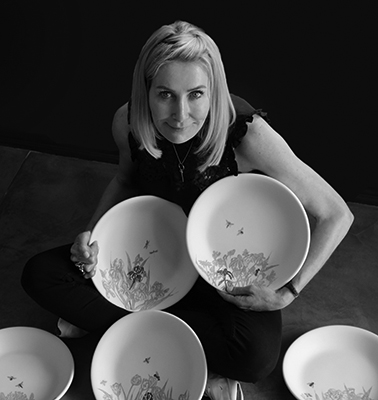 Porcelain with sgraffito and applied sprigs
"The design is drawn into the porcelain work when it is leather hard. The work is dried slowly and then after a first firing at 1000°C the work is sanded and a black slip is carefully painted into the incised lines before it is sanded again.  Glaze is applied inside the pieces as well in the incised lines and then each piece is fired to 1240 °C.  After the glaze firing the work is wet /dry sanded again.  Sometimes a third firing is involved with a bit of gold lustre added
I spend most of my days thinking in terms of storytelling and my work reflects this.   My work is about bringing together my love of form and drawing. I like to illustrate through 'clay etchings' and little clay sprigs on each piece form a world in which small acts of everyday life reveal themselves in fine detail.  My passion extends to the outdoors of the South Africa bush veld where I find much of my inspiration.
I tend to work in series and hardly ever repeat a work."
You cannot add "Echinacea" to the cart because the product is out of stock.