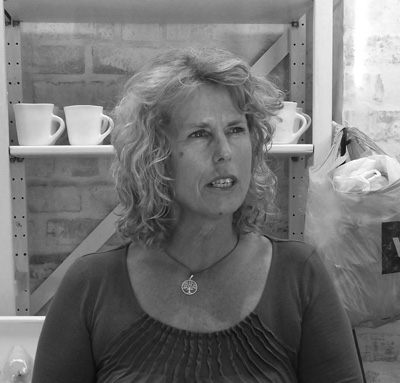 Sonja works at her Clay Art studio in Rondebosch, Cape Town producing 100% handmade tableware in a delicate and whimsical style, which gives each piece its special character.
Her designs are applied on each piece, glazed and then fired at stoneware temperature, making the tableware all oven and dishwasher safe.
Sonja's theme is "freedom, sprout and grow" and her signature design is a plain background in with a simple motif on each item. She is inspired by her own backyard, where chickens peck freely at vegetable waste, amidst a riotous garden of flowers and shrubs
She has also recently developed a delicious pastel range of porcelain organic shapes, ably assisted by her talented protégé, Valencia.
Sonja has produced commissions for chefs at some of South Africa's top restaurants including The Vineyard Hotel, The Tasting Room, The Potluck Club, The Shortmarket Club and Boschendal wine estate.