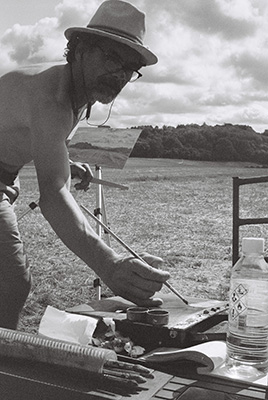 Born in 1971, Niël Jonker is an inter-disciplinary sculptor who paints prolifically and hosts experiential workshops from his home studio in the Overberg hamlet of Baardskeerdersbos, South Africa. In Niel Jonker's artistic practice, process plays a key role in which he acknowledges the passage of time and a conscious relationship with the elements, while themes are empirical and materials traditional.
For Fillingdon Fine Art's November 2023 group show Niel rented a van in St. Albans and painted a random route over the Chiltern Hills while wild-camping, and invited fellow South African painter Stu Dods along. All the landscape paintings were painted in oil on site and ended with some experiments in gouache to facilitate the next trip per bicycle to Wales.
Niël grew up on an ostrich farm in the arid Little Karoo region of South Africa's Western Cape where he developed a childhood bond with nature that informed his working processes and themes.
Jonker holds a National Diploma in Fine Art from Technikon Natal with distinctions in painting and sculpture. Collected internationally, his landscape paintings in the Cape impressionist tradition and realistic bronze figures in the classical tradition remain a large portion of his output, while constantly finding new expression for similar themes in various media.
Since 2019 Jonker has developed traditional terracotta techniques to explore more
contemporary relevant themes that emerge from the interface that exists between the mind and body when engaged in natural processes. Fragile Beings is his ongoing series of biomorphic terracotta sculptures exploring the dream state through animal and human forms emerging from sustainable ceramic practices such as gathering indigenous oxides, hand-building, and wood-firing.
Niël hopes to divide his time between South Africa and the United Kingdom furthering related themes by painting en plein air and exploring similar sculpture applications, all the while embodying an active relationship with landscape.